James Clear says, "Some people spend their entire lives waiting for the time to be right to make an improvement." Let's be honest, we either get busy or procrastinate so much that we never take the time to change.
How can we get to the point where we actually commit and have the discipline to change. Can you actually become a better spouse? In this post, I hope to show you a quick idea I use for how to show the power of forgiveness in marriage.
The power of forgiveness in marriage
In 2014, the University of Kentucky basketball team lost three of the last four regular-season games, including an embarrassing loss to a 12-19 South Carolina team. Coach Cal said he had a "tweak" to fix the problem and turn the year around.
Whatever Cal did, it worked. The team turned it around and beat the number 2, 5, 7, and 12th ranked teams in the country in route to advancing to the NCAA title game.
On a day-to-day basis, I regularly slip in one or more areas. One day I have a good quiet time, but then I don't exercise. The next day I exercise but eat like a prize hog. The next day I watch my diet but drink five diet cokes and eight cups of coffee. Yesterday, I was productive, but didn't exercise and was short with my family. You get the idea.
But, here's my new plan. I'm starting what I'm calling "the daily tweak." I have no condemnation for the day before, but purpose myself to do better in whatever area I slipped the prior day. In short, I plan to seek forgiveness and keep short and current accounts with myself, my spouse, and mostly importantly, God! I figure that, if I don't string a lot of bad days together, I will cultivate good habits and avoid bad ones. Boom. I win. My spouse wins. All wins!
Grace Marriage Mission
Identify where you did poorly the day before, accept God's grace and purpose yourself to have a good day in that area. Your behavior will never satisfy you, only Christ will. However, the daily tweak will help you cultivate good habits, avoid bad ones, and put you in a better posture to experience God.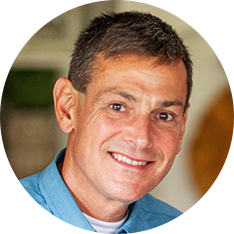 Brad Rhoads is co-founder of Grace Marriage.