Desire makes a very poor guide, especially in marriage. Often, we don't want to do the right thing. It is a reality of our flesh. If we lived strictly by desire, we wouldn't be diligent employees, faithful spouses, servant leaders, patient parents, or selfless friends.
In marriage, we certainly would not be driven to regularly put the other person first in mutual love, respect, and honor. Here is why you shouldn't follow your heart in marriage.
---

Why You Shouldn't Follow Your Heart in Marriage
Instead of following your desires, learn to let God's truth be your guide—not your heart or your emotion. If you wait until you both "want to" times, of good connection and physical intimacy will be sporadic at best. When you are guided by the Spirit and the Word, both of you will joyfully set yourselves aside and seek the good of the other—which makes for a very happy marriage, indeed!

Grace Marriage Mission
Spend time with the Lord and take a quick inventory of at least three things the Bible commands you to be that don't come naturally to you. These can be qualities specific to being a godly husband or wife (such as possessing a quiet spirit or loving sacrificially) or simply as one of God's children (like the commands to be joyful, patient, and so on.). Make it your mission to grow in each of these areas over the next week and to commit the supporting Scripture to memory.
Think on these Scripture:
Psalm 119:105 > Your word is a lamp for my feet and a light on my path.
Proverbs 28:26 > The one who trusts in himself is a fool, but one who walks in wisdom will be safe.
Jeremiah 17:9 > The heart is more deceitful than anything else and desperately sick-who can understand it?
John 14:6 > Jesus told him, "I am the way, the truth, and the life. No one comes to the Father except through Me.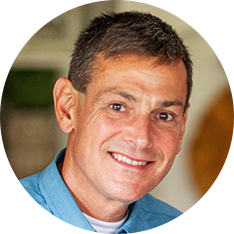 Brad Rhoads is co-founder of Grace Marriage.